I took up touring theatre in the mid-1980s when I co-founded the Animus Theatre Company with several other youthful and intrepid actors from Bolton. I put the pen down on my last exam paper and stepped into the theatre bus outside the school gates to head out to Austria and Germany on the festival circuit. My passion to create work that inspires, provokes, educates and entertains has in no way diminished, and I am delighted to continue to work on stage and screen thirty years on.
I have worked across a wide range of genres, from clowning and panto to horror films, new writing and Shakespeare. I love devising and collaborative work and am always ready for a new challenge.
My television credits include Coronation Street, Emmerdale, Peak Practice, Strange, Blackpool, Eastenders, From Here to Paternity, Cathedral – Fire at York, Doctors and The Somme.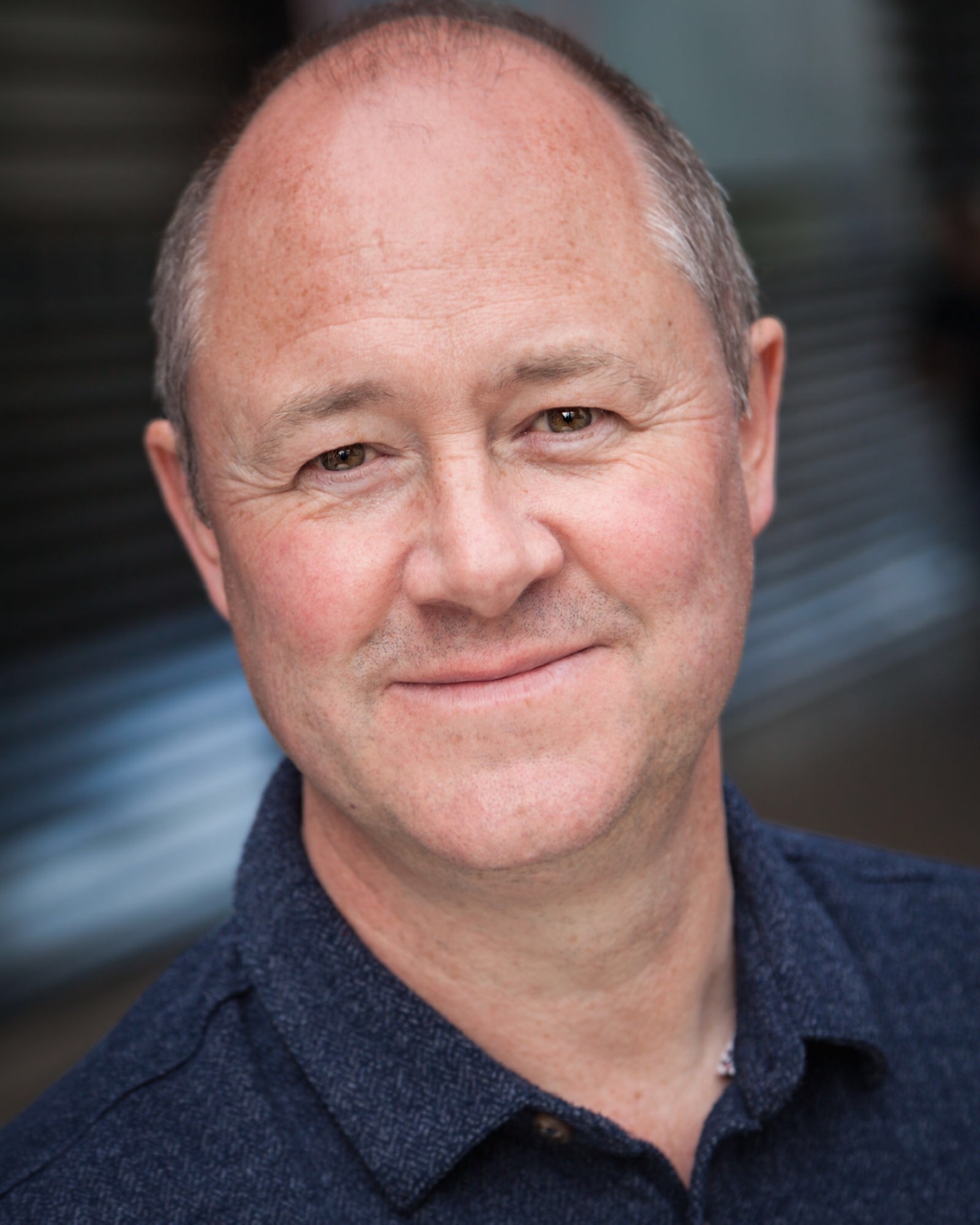 Television
Production
Role
Network
Director
Saved
Ian Molyneux
ITV
Jonathan Rudd
Doctors
James Myles
BBC
Niall Fraser
Backroom Heroes
Ralph Hooper
Raw TV / History Channel / C5
Tim Holland
Coronation Street
Dave Edwards
Granada
Neil Alderton
The Somme: From Defeat to Victory
Captain Tweed
BBC
Detlef Siebert
Cathedral – Fire at York
Jonathan Martin
BBC
Isabel Tang
Blackpool
Desk Sergeant
BBC
Julie-Ann Robinson
From Here to Paternity
Dave
BBC
Eastenders
Bernard Clark
BBC
Mark Sendell
Strange
Barry Sturgess
BBC
Joe Ahearne
Peak Practice
Dr Blane
Carlton
Moira Armstrong
Emmerdale
Darren Rose
YTV
Oliver Horsborough
Theatre
| Production | Role | Venue | Director |
| --- | --- | --- | --- |
| Tale of Two Cities | Defarge / Stryver | Hong Kong & Edinburgh Pleasance | Jonathon Holloway |
| A Voyage Round My Bedroom | Guide | Henley Festival | Eric MacLennan |
| Dick Whittington | King Rat | Hertford Theatre | Rhys Thomas |
| Aladdin | Abanazar | Hertford Theatre | Rhys Thomas |
| Stones in His Pockets | Jake | Trixter Theatre, Gothenburg English Speaking Theatre | Malachi Bogdanov |
| Macbeth: Kill BillShakespeare | Duncan/Macduff | UK Tour | Malachi Bogdanov |
| The Last Pirate | Hack & White< | Spectacle, Wales Tour | Steve Davis |
| Edward II | Lancaster/Lightborn | Neuss Shakespeare Festival, Germany | Malachi Bogdanov |
| Macbeth: Kill BillShakespeare | Duncan/Macduff | Neuss Shakespeare Festival, Germany | Malachi Bogdanov |
| Anyone for Pudding | Dad | Royal Court at The Pleasance | Tom Cornford |
| Bill Shakespeare's Italian Job | Fool | Gilded Balloon, Edinburgh | Malachi Bogdanov |
| Romeo & Juliet | Romeo | British Touring Shakespeare – The Shaw Theatre, London | Miles Gregory |
| Henry V | Chorus | British Touring Shakespeare – Shaw Theatre & Palace, Westcliffe | Miles Gregory |
| Macbeth | Macduff | American Drama Group and TNT, World Tour | Paul Stebbings |
| Hamlet | Hamlet | English Shakespeare Co, UK Tour | Malachi Bogdanov |
| Titus Andronicus> | Titus Andronicus | English Shakespeare Co, UK Tour | Malachi Bogdanov |
| Romeo & Juliet | Friar Lawrence/Mercutio | English Shakespeare Co Education, UK Tour | Robert Smith |
| Macbeth | Macbeth | English Shakespeare Co Education, UK Tour | Chris Geelan |
| A Midsummer Night's Dream | Bottom/Demetrius | English Shakespeare Co Education, UK Tour | Robert Smith |
| A Midsummer Night's Dream | Bottom | Shakespeare in the Park, London | Allan Patterson |
| September in the Rain | Jack | The Brockley Jack, London | Rhys Thomas |
| The Canterbury Tales | The Pardoner | Alive & Kicking, European Tour | Martin Riley |
| 100 Years of Enchantment | Franco | The Union Chapel & The Oval House, London | Dave Bridel & Rhys Thomas |
| Antony & Cleopatra | Enobarbus | Barons Court Theatre, London | Mark Normandy |
| Desire Caught by the Tail | Roundpiece | Hong Kong Festival & Theatre Museum, London | Jasper Britton |
| The Rime of the Ancient Mariner | Samuel Taylor Coleridge | Mainbrace Theatre UK Tour | David Bridel |
| To | Landlord | Mainbrace Theatre | Rhys Thomas |
| Romeo & Juliet | Benvolio | English Shakespeare Company Education, UK Tour | Chris Geelan |
| Metamorphosis | Gregor Samasa | Codpiece Theatre, Chester Festival | Chris Spring |
Film
| Production | Role | Company | | Director |
| --- | --- | --- | --- | --- |
| Saving Grace | Neil | Blind Crow | | Matt Rozier |
| The Mandrake Root | Ligurio | European Drama Network | | Malchi Bogdanov< |
| In the Spiders Web | Brian | Maneaters – Thailand | | Terry Winsor |
| Solo Shuttle | Policeman | Independent | | David Cohen |
| Weekend Bird | Prisoner | Independent (Short) | | Nick Cohen |
Teaching
The National Youth Theatre of Wales – ran devising workshops for 2014 residential audition recalls
Guildford School of Acting – shows include Robert & Elizabeth, Miss Julie, Dangerous Corner, 25th Anniversary Putnam Spelling Bee, The Permanent Way, The Winters Tale
Guildford School of Acting – Improvisation / Shakespeare / Naturalism / Clowning & Physical Theatre 2008 – 2014 ongoing
Guildford School of Acting Audition panel – 2011 – 2014 ongoing
Guildford School of Acting – Storytelling – Foundation Year Acting and MT students 2008
Arts Educational School Foundation Courses on Shakespearean Verse 2004/2005/2006/2007
Stage Fighting Workshop – Bucks New University 2007
Mountview Academy of Theatre Arts – "Actor & Text" – 2nd Yr MT Students 2006
Mountview Academy of Theatre Arts –Twelfth Night & The Winters Tale 2nd Yr Acting Students 2006
St Mary's College – Actor/Director support for MA in Theatre Direction, 2006
Mountview Academy of Theatre Arts – Still-Waking Sleep – Post-Grad Muscial Theatre Students 2006
Mountview Academy of Theatre Arts – An Ideal Husband 2006
Mountview Academy of Theatre Arts – Narrative Project: O Ye Gods 2005
Mountview Academy of Theatre Arts – Abandonment 2005
Mountview Academy of Theatre Arts – Tainted Love 2005
Arts Educational School – Foundation Courses on Audition Techniques, 2004 & 2005
Mountview Academy of Theatre Arts – Narrative Project: The House 2004
National Association of Youth Theatre Directors – The Dark Art of the Bard – Workshop for SE Regional Directors, 2004
Henley Theatre Festival – Finding the Focus – Guest Director Workshop, 2004
Royal National Theatre Education – Director's Workshop on The Tempest and how to run workshops for students, 2003
Shakespeare in Schools – Workshops on Shakespeare in UK Schools since 2000 (Over 200 workshops)
Goldsmiths University – Actor/Director support for MA in Theatre Direction, 2003
Gwent Theatre – Playing with the Invisible – Training Workshop for South Wales Drama Teachers, 2003
Bi-Jingo/Legal Services Commission – Corporate Training and Assessment programme, 2003
Middlesex University – Shakespeare in Performance, Actor/Director support – for MA in Theatre Direction, 2002
Dynamic Solutions Europe, Ltd – Visions, Values and Behaviours – Corporate Management Training Workshops for South West Trains, 2002
Gwent Theatre – Devised & led workshops exploring the subject of Refugees alongside Mirad, A Boy from Bosnia, 2001 & 2002
Billboard Personal Management– Recruitment workshops 2001
Carshalton College – Melodrama Workshops 2000
Corporate workshops on Stage-fighting, Character & Physical Theatre for UK & Spain, 2000 & 2001
Mainbrace Theatre – Storytelling workshops supporting One Hundred Years of Enchantment, 1999
West Cheshire College of Further Education – Taught A-Level and Btech Theatre Studies as well as running evening community drama workshops 1990-1991
Commercials
Production
Role
Company
Paultons Park
Dad
Geocast TV
New Forest Promotion
Dad
Geocast TV
Renew
Simon Charles
Spirit Media
Wallace & Gromit film promotion
Dad
News International
The Cow
Vet
The History Channel
Kippen
Lead presenter
Achmea (Netherlands)
Internet Commercial
Main artist/driver
CheekyMonkey.com
Director
Company
Play
Author
Guildford School of Acting
The Winters Tale
Shakespeare
Guildford School of Acting
The Permanent Way
David Hare
Guildford School of Acting
The 25th Annual Putnam County Spelling Bee
Feldman, Finn et al.
Guildford School of Acting
Dangerous Corner
J B Priestly
Guildford School of Acting
Miss Julie
Strindberg
Guildford School of Acting
Robert & Elizabeth
Ron Grainer
Mountview Academy of Theatre
The Storm
Peter Oswald
Mountview Academy of Theatre
Twelfth Night & The Winters Tale
Shakespeare
Mountview Academy of Theatre
Still-Waking Sleep (Shakespeare Medley)
Shakespeare
Mountview Academy of Theatre
O Ye Gods
Devised
Mountview Academy of Theatre
An Ideal Husband
Oscar Wilde
Mountview Academy of Theatre
Tainted Love (Shakespeare Medley)
Shakespeare
Mountview Academy of Theatre
Abandonment
Kate Atkinson
Mountview Academy of Theatre
The House
Devised
Gwent Theatre
The Canterbury Tales
Wales Tour
Martin Riley/Chaucer
Arts Educational School
Tales From Ovid
Ovid/Hughes
Gwent Theatre
Mirad, A Boy from Bosnia
Ad de Bont
English Shakespeare Co. Education
Macbeth
Uk Tour
Shakespeare
English Shakespeare Co. Education
Romeo & Juliet
Uk Tour
Shakespeare
Codpiece Theatre
Fish
Chester Festival
Devised
Animus Theatre
Among Ashcans
European Tour
Devised
Animus Theatre
The Soldier Song
European Tour
Devised