To celebrate the relaunch of my website this week, I'm giving away 10 of my audio books free to the first 10 people to request one.  There are no strings!  These are gifts and you don't need to sign up for any expenses, please just have a look at the books and let me know which one you'd like by leaving me a message via the contact form here (as my way of checking that it works consistently!) – including your preferred email address.
It would be great if you could later leave a short review of the book you receive on the Audible site – but there is genuinely no obligation to do so!  If you can't decide, I'm particularly keen to promote Feud by Derek Birks – as that was the first book recorded in the ManCave and there are plenty more to come in Derek's series.  While you're here, any feedback on the website would also be appreciated.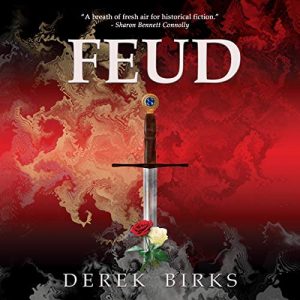 Here's a kind review by Andy Lavery, but why not make up your own mind?!
"I bought the Audible version to tide me over a journey from Reading to Scotland and back which it did and then some (slightly surreal that I passed close to some of the places in the book, covering journeys which the characters took many days to make in a matter of hours, even accounting for the M6 🙂 ) But to the book – what a great story – action packed! I'm not familiar with the period of the Wars of the Roses but having dipped into Wikipedia to check some to the facts, Derek Birks seems to weave the drama seamlessly into the historical context and the description of equipment smacks of authenticity. He also seems to have taken a leaf out of George R R Martin's book by being prepared to kill off a number of characters (no spoiler!) that I had grown to like, but I guess it's unrealistic to expect everyone to survive what was clearly a very bloody war! Pride of place must go to Mike Rogers for the narration however – a real tour de force, using different voicings and accents to distinguish between the many characters. How did he manage to keep track of so many and be so consistent – very talented!! Hope there are more audio books in the pipeline. Highly recommended."